The beginning of the new garden.
Lots of work left to do when the following group of pictures (several posts) were made.
May 27,2011
You can see the hills that have been planted in potatoes.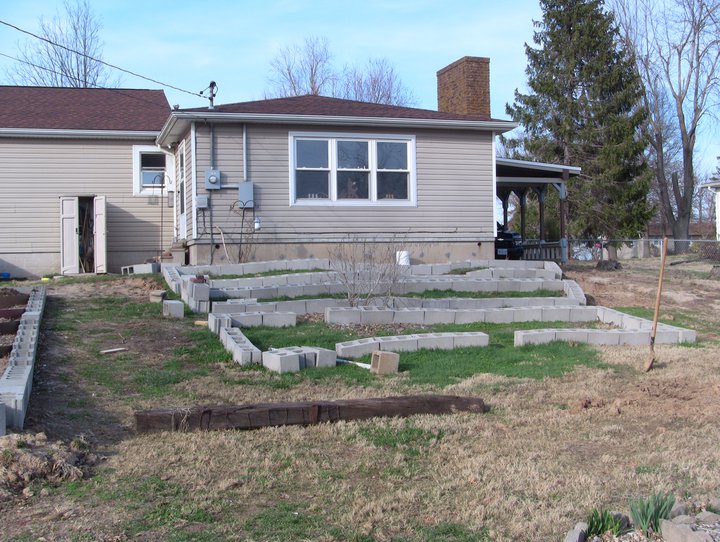 Under bird feeders are potatoes, the section below them are lima beans which half did not come up and will need to replant next week, also onions. We have already consumed a lot of the onions.
The next section over will be a circle of winter onions. There is one variety of tomatoes along the pole. Another tomato picture later. Pole beans below the onions.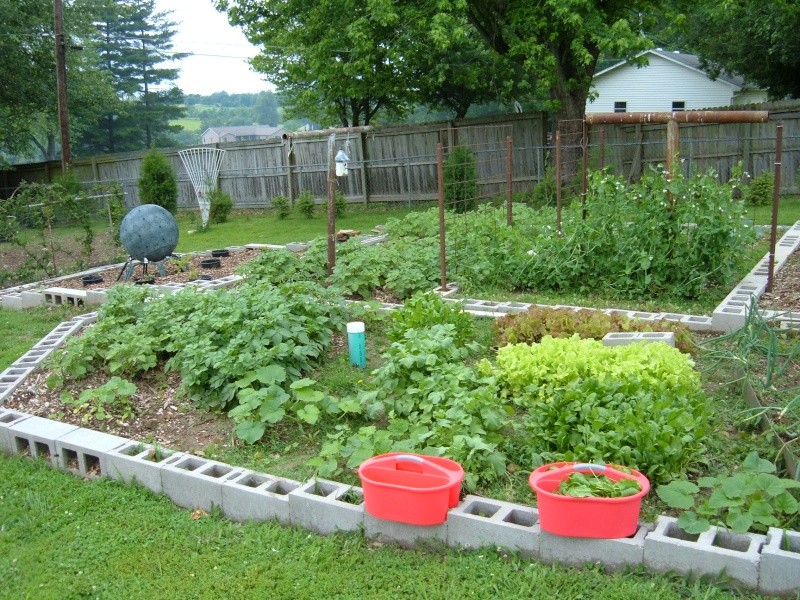 Bottom right corner of this section is a small hill of squash. Then spinach, and two varieties of lettuce. I was picking the spinach in one of the red containers today. Behind them empty container is radishes and more spinach.. Then in the lower left of picture are more potatoes and 2 more hills of squash.
Top part of picture and section over will be the snow peas. If you look close enough you can see the white blooms. They are almost as tall as the pole. To the left and next section are more potatoes. The the composter section with black buckets are the newly transplanted blueberries. They will be permanent in the black buckets with bottoms cut out. See the composter? Below the composter are the blackberries that were moved last fall. They are blooming now.
A closer look at the lettuce (please ignore all the weeds)
I am trying to get some of the snow peas to go to their fencing.
In the front is a short row of potatoes that were sprouting in the kitchen so I planted them. To the right of the picture are more potatoes and a short row of cucumbers at the fence.
Behind me, in the green grassy area, in a picture a couple of months, ago was all dirt. Son is proud of the grass. You can barely see the edge of the gazebo in the picture.
Pole beans and a few pepper plants.
Tomatoes. The section to the left is asparagus and to the right that section has not been finished yet.
We planted the sweet potatoes earlier in week in half of a section. More mulch is needed.
This is a close up of the sweet potatoes. Not all of the section is showing and the green at the bottom is going to be removed (weeds). We ran out of mulch and have more from a smaller tree. I wanted to get the potatoes in the ground so there is time to get the rest of the section mulched yet. The sweet potatoes will vine out.
A different view of the tomatoes. Behind is the asparagus. On the left corner nothing but weeds....I plan to plant dill seed there next week.
The patch of grass see on the path did not germinate well. More seed will be added.


Similar topics
---
Permissions in this forum:
You
cannot
reply to topics in this forum